Suicide can have a devastating impact on a community. The shock and grief can ripple throughout the community affecting friends, co-workers, schools, and faith communities, and more. Postvention is a term used to describe how different systems and organizations work together using a planned response protocol to respond to a suicide or any sudden death. Because knowing someone who has died of suicide is one of the biggest risk factors for suicide, we see postvention as a powerful and necessary component of suicide prevention efforts.


In 2015, Oregon became the first state in the country to mandate suicide postvention planning for each county. To facilitate thoughtful and comprehensive postvention planning and responses, we have partnered with NAMI-New Hampshire to provide Connect Postvention trainings throughout the state. The Connect Postvention training model provides community building, education, and strategic planning for service providers who may be called on for help in the aftermath of a suicide.
Training Highlights:
Best Practices on how to coordinate a safe and supportive response to a suicide
Strategies for reducing the risk of additional suicide attempts or deaths
Review of the complexity of suicide-related grief, especially for different age groups
National Best practices on talking safely about suicide, responding to media, funerals and memorials
How to help individuals, families, and communities heal
Creating a suicide postvention response plan, including immediate and long term actions
This training is ideal for professionals who may respond to a suicide death in their community including school personnel, social service providers, faith leaders, first responders, mental health professionals, mental health/substance abuse service providers, tribal entities, bereavement specialists, and more.

We will also be implementing the Connect Postvention training program through a four-day community format. This comprehensive format includes participating in a postvention training, developing a postvention plan, and creating a team of local trainers to provide on-going training. The Training for Trainers component creates sustainability and strengthens the plan across service sectors of the community. Prospective trainers must be able to attend all four days.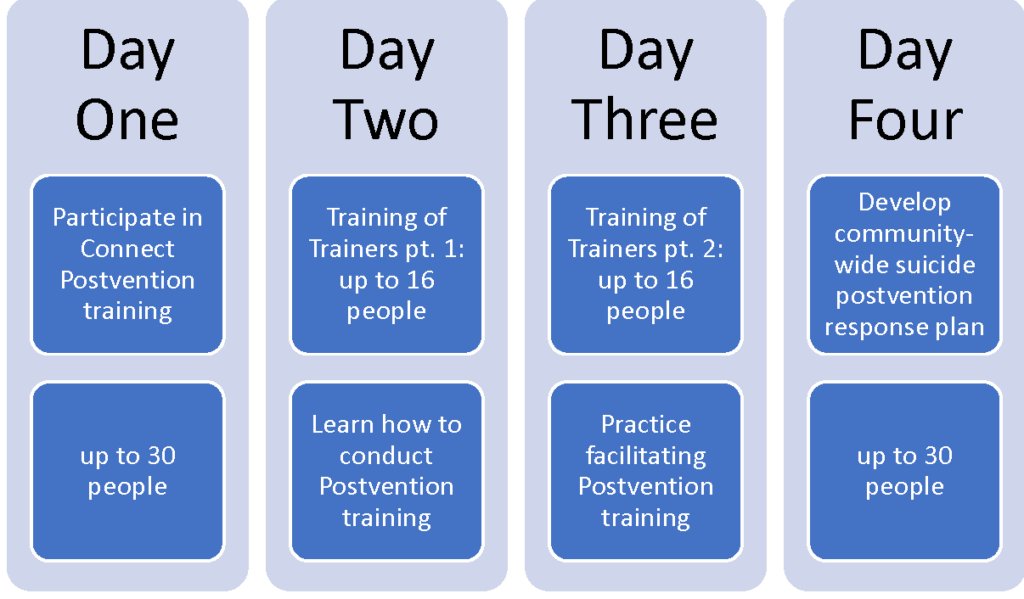 Trainers will be supported by our Statewide Connect Postvention Coordinator and will have the opportunity to build relationships with other trainers through a monthly learning collaborative web meeting series. These meetings will allow us to stay fresh on training material, share local successes and innovations, and get support around any challenges that arise.

https://theconnectprogram.org/


To learn more about Connect, contact:

Kris Bifulco, MPH
Statewide Connect Postvention Coordinator
Association of Oregon Community Mental Health Programs
Office: 503-399-7201
Cell: 203-231-3619
kbifulco@aocmhp.org